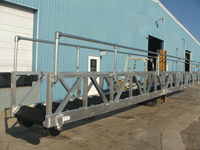 Marine Gangways, a division of Remmel Enterprises, Inc, knows the products that Shipbuilders and Ship Chandlers need in order to provide access and efficiency to and from their ships. That is why we provide and ship Truss Style Gangways, Beam Style Gangways, Bulwark Ladders and V-Treds. Read more about our product specification below or view our product catalog.
English Catalog
Spanish Catalog
All welded aluminum
Available with round edged aluminum cleats or new V-Tred design
Slip resistant gravel paint
Galvanized lifting bar
Dock roller or wheels
Gunwale Clip
Poly-Rope or Aluminum handrails
Available up to 70 feet with 24" or custom width walk area
All aluminum construction
Decking is available in dimple or slip resistant gravel paint.
Poly-Rope or Aluminum Pipe handrails placed in speed rail fittings for ease of removal and repair
8" phenolic wheels with delrine self lubricating bearings or aluminum dock roller
Lifting bar
Gunwale clip
Available with cleats or new V-TRED with gravel paint
All welded aluminum construction
widths 24 inches or 28 inches
Grip strut stair treads 10" on center
Handrails placed 42" above top step
Rubber foot pads for sure footing
Heights beginning at 32" for a three tread, 42" for a four tread, 52" for a five tread etc.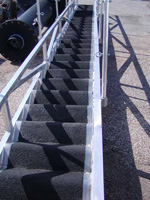 Are designed to replace cleats. All V-TRED surfaces are painted with slip resistant gravel paint. Our V Treds allow safe walking conditions from a flat surface up to an incline of 45 degrees and still remain safe even in bad weather.
Call 281-470-7200 or contact us online.